Posted by
Kim Filler
2.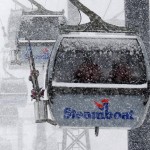 Where did the term Champagne Powder originate? 
In the early 1950's Kremmling rancher Joe McElroy operated a rope tow on Baker Mountain (east side of Rabbit Ears Pass). He coined the phrase champagne powder to describe the fluffy snowfall, which has become famous today.
The Steamboat Ski Resort does own the register trademark for the phrase "Champagne Powder"®.