Area Guide
The Town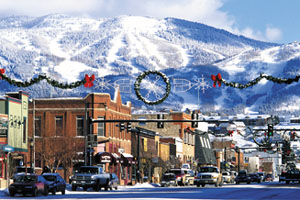 Seven thousand feet up in the Colorado Rockies, nestled quietly below one of the largest ski mountains in North America, sits a small ranching community that serves as a constant reminder that the Old West is alive and well. Never far from its ranching roots, Steamboat remains firmly linked to a Western tradition that sets it apart from every other ski resort in the world.
Whether you're stepping foot into a local pub, one of our charming boutiques or stepping off the Gondola, the reception is the same – warm. But the down home friendliness is only half the reason people choose to vacation here. With 164 trails, 3,668 vertical feet, and nearly 3,000 skiable acres, Steamboat's 6 peaks are filled with world-class groomed cruisers, bumps, steeps, open meadows, legendary trees and Mavericks – North America's longest superpipe.
Steamboat is known around the globe simply as Ski Town, U.S.A.® and has produced more winter Olympians than any other town in North America, now a record 69 and counting. Including the 20 Steamboat athletes competing at the 2006 Games, Steamboat's Olympians have represented five different countries, and made 120 Olympic appearances during 16 Winter Games.
And long before people strapped on skis for fun, Steamboat residents in the late 1800's were using ski and snowshoes in their daily lives. In fact, Steamboat Springs recently celebrated its 100-year anniversary. You'll be hard pressed to find another resort town that exudes this much history, heritage and character. Come see for yourself why Steamboat continues to hold a special place in the hearts of so many people.
DINING:
Each unit has a dining guide on the coffee table.
To view restaurants, menus and pricing before you arrive:
Steamboat Springs Dining Guide


SHOPPING:
Steamboat has a vast array of shops located from the mountain area to downtown.
CAMPING:
Steamboat is surrounded by outdoor activities.  Here is a list of Campgrounds in the area.
Steamboat Facts and Figures
Overview
Also called Ski Town, USA® and known for its World Class skiing facilities, Steamboat Springs was originally a summer resort.  Travelers in the early 1900s visited Steamboat Springs in the summer months for the natural hot springs and vast hunting and fishing opportunities.  Today, summer activities span the spectrum, with three championship golf courses, an indoor-outdoor tennis center, biking, hiking, kayaking, fly fishing, and horseback riding right in town.
Location
Colorado's Yampa Valley is located just 160 miles northwest of Denver. From Denver, take I-70 west through the Eisenhower Tunnel to the Silverthorne exit; go north on Colorado Highway 9 to Kremmling, then west on U.S. Highway 40 to Steamboat Springs. From Salt Lake City (390 miles), take   I-80 east, merge into U.S. 40 east (exit 148) and take U.S. 40 into Steamboat Springs.
Elevations
Downtown: 6,695'
Steamboat Ski Area: Base: 6,900' Summit/Mt. Werner: 10,568'
Medicine Bow/Routt National Forest: 5,500' to 12,940'
Mt. Zirkel Wilderness: Fifteen peaks reach 12,000' with Mt. Zirkel the highest at 12,180'
Flat Tops Wilderness: Devil's Causeway 11,600'
Hahn's Peak Village: 8,128' Hahn's Peak Summit: 10,839'

Geographic Setting
Steamboat Springs lies against the western ridge of the Continental Divide and is nearly surrounded by National Forest, and Wilderness areas.  The Yampa River, which begins in the Flat Tops Wilderness, flows through downtown Steamboat Springs and eventually meets the Green River in Dinosaur National Monument.  Two ski areas, four Colorado State Parks, hot springs, lakes, rivers, and trail systems cater to a plethora of outdoor activities.
Climate
Steamboat Springs' summers are mild, cool and dry.  July is the hottest month with an average high of 82 degrees and low of 41 degrees.  Low humidity and elevation combine to make the summer comfortable and pleasing.
Population (2000 Census)
City of Steamboat Springs: 10,115
Routt County: 19,690

Area Attractions & Points of Interest
Strawberry Park Hot Springs: 7 miles from town
Fish Creek Falls: 3 miles from town
Continental Divide Trail: Summit Lake trailhead 18 miles from town
Steamboat Lake State Park: 27 miles north of town
Stagecoach State Park: 17 miles south of town
Yampa River Core Trail: winds along the Yampa River through downtown Steamboat Springs

Shopping & Retail
Steamboat Springs has nearly 250 shops and boutiques including art galleries, western outfitters, outdoor retailers and gift shops for every taste.  Two primary pedestrian friendly shopping areas include Steamboat's Mountain Village located at the base of the Steamboat Ski Area, and downtown Steamboat Springs.  The two areas are three miles apart and serviced by Steamboat Springs free city bus.  Several other shopping options in between the "town and mountain" are also located on the bus route.

Restaurants & Bars
Steamboat Springs boasts more than 70 restaurants representing the full spectrum of cuisine to satisfy every appetite.  From fresh game to fresh fish, flown in daily, every culinary delight set in a variety of atmospheres is waiting to serve up a delicious meal with a healthy helping of western hospitality.
Getting Here  | Steamboat Transportation Services
It's easy to get to Steamboat Springs and the Yampa Valley. In winter, Steamboat is the most conveniently accessed ski resort in Colorado, with daily flights arriving at the Yampa Valley Regional Airport (HDN), located just 22 miles from town. Click here for a full schedule of non-stop jet service.
A scenic drive meandering through the mountains and passes provide a few different routes to Steamboat Springs from the Denver metropolitan area. The quickest route to our Steamboat condo rentals is to take Interstate 70 West to the Silverthorne exit and continue along Colorado State Route 9 North to Kremmling and then take US 40 West over Rabbit Ears pass, to descend into the Yampa Valley and Steamboat Springs. (See Map below) Alternate Routes include going over Berthoud Pass(US 40) or taking the scenic route through Rocky Mountain National Park, via Trail Ridge Road, which is the highest paved road in the United States.
Rental cars as well as Steamboat based ground transportation services will bring you to your specific destination in our lush valley. It is a scenic, 160 mile drive from DIA to Steamboat Springs and
the Yampa Valley. The views are spectacular along the I-70 corridor and it's not uncommon for travelers to see wildlife, including elk, mountain goats, big horn sheep, eagles and deer.
Once you're here, we have free transportation within the City of Steamboat Springs to help you get from your Steamboat Springs rental property to the various activities throughout the town.
During the summer, United Airlines has daily flights from DIA (Denver International Airport) into the Yampa Valley Regional Airport (HDN).  Denver International Airport, is approximately 160 miles east of Steamboat Springs. In addition, most major airlines fly into DIA from both domestic and international locations throughout the world. In winter, Steamboat is the most conveniently accessed ski resort, with daily flights arriving just 22 miles from town.
For a map of downtown Steamboat Springs, click here.
For a map of the mountain area, click here.
THE WEATHER IN STEAMBOAT IS ALWAYS GOOD!