Posted by
Kim Filler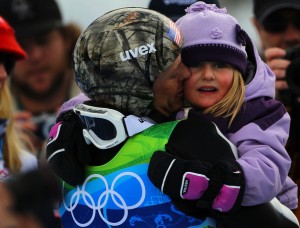 When five time Nordic Combined Olympian and Steamboat local Todd Lodwick takes his son and daughter for a day in the snow, he has one thing in mind…..having fun.
Taking time out from his arduous training and travel schedule Todd sat down to share his secrets for keeping little folks smiling in the snow.
1. Above all else – encourage the fun factor. Todd delves into his mischievous imagination to keep his own kids, 6-year-old Charley and 4-year-old Finn laughing. A big tumble on the mountain was nothing but the fault of the snow snake that got in their way. It's not what hurts, but how big was the snake!
2. When you're out there with your kids – just be with them; don't try to be the coach. They don't need lectures, that's what instructors are for.
3. Prepare before heading out by layering up – right down to a t-shirt, lets face it little ones get hot as quickly as they get cold.
4. Gloves, mitts, they are all the same, they don't stay on little hands for long. Avoid frozen paws by using wrist bands for keeping mitts secure. (I've since discovered duct tape does the job too!).
5. For those extra cold days in the snow, hand warmers work wonders for older kiddoes.
6. Keep the blood sugar up with healthy snacks – Todd's own favorite is Steamboats' Honey Stinger gummies.
7. Be safe and wear a helmet – that goes for grown ups too.
8. Avoid burnout and have a day off. Steamboat has a tonne of fun things to do off the mountain. For little Lodwick's that day might comprise of snowman building at a local park then a soak in the hot springs.
9. Try something different; a ski vacation doesn't have to rely on alpine. Head over to Howelson Hill and get airborne – jumping is easier than it looks. (Guess I am going to trust him on that one).
10. Stay positive – a good attitude is everything.
As one of four boys growing up in Steamboat, it was all about having fun and giving everything your best shot. ""To me, life is about pouring your heart and soul into something, giving it all you've got, and then seeing what heights you can jump to."  www.toddlodwick.pro
Story by Suzi Mitchell.