Posted by
Kim Filler
For a small mountain town, Steamboat Springs sure knows how to put on a heck of a parade. This year's July 4th certainly did not disappointment. From a fire breathing dragon to ranchers in saddles, every facet of the town's culture was covered.
Kicking off the procession fire trucks and police cars had little ones cheering with excitement, flag bearing military got the nod from thankful countrymen, after a stirring rendition of the Star Spangled Banner.
From then on it was anything goes. There was dancing in the street from Perry Mansfield and Elevation Studio, balls tossed through the air with Steamboat Rugby, a rubber ring clad swim team, chainsaw wielding forest fire fighters, giraffe on a bike, a live camel and that was just the quirky. Old time ranchers lassoed down Lincoln, tractors tooted, a longhorn mooed its way, and a Thunderbird revved up behind a Morris Minor.
Perhaps the most talked about entrant was Steamboat's very own fire breathing dragon. Built entirely of recycled material,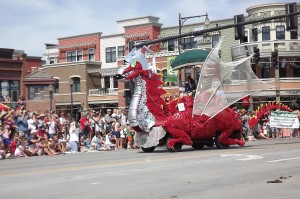 Charlie and Gail Holthausen's art car is becoming something of an icon in the valley. So much so this July 4th centerpiece is heading west in the fall destined for Burning Man and the Las Vegas Halloween Parade.
Sticking with the anything's possible theme, it seemed only right a ski town would have snow on their parade. Halfway through the procession a little flurry of the white stuff blew around Ski Corp's gondola on wheels, thanks to the wonder of electronics.
Flag waving spectators cheered on the morning's kid's races, plus Nordic skiers (on roller blade like devices). Kids dived off the sidewalk for candy and Power Ice bars being dished throughout. The sun shone brightly on happy faces enjoying a tradition that each year brings out the best Steamboat has to offer.