Posted by
Kim Filler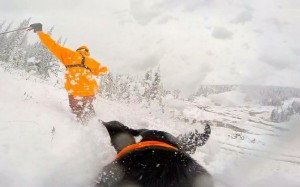 Typically it's the time of year in Steamboat Springs, when locals take to betting. Hedge your best guess on the first snowfall of the coming ski season?  Well, snooze you lose, it's already been. By the morning of September 30, Steamboat Ski Area had been given its' first dusting.  Discontent to admire from a far, several die hard skiers and boarders unearthed their gear and headed for the highest elevations on Rabbit Ears Pass and Buffalo pass to bump or glide over what they could find.
The rest of us prefer to wait for that Champagne Powder, and it won't be long. November 26, the mountain officially opens but will Mother Nature go on to bless us with early snowfall? It's hard to predict, especially as this year is a La Nina year.
Taking a glance at seasons gone by, 2007 started with a whopping 17 inches in October, laying the foundation for a record of 489 inches. The second snowiest season to date was 1996/97 with 26.5 inches in October.
Keeping a watchful eye on the weather channel, it looks like September's little dusting was merely a false alarm for a freezing Fall. White flakes are not set to return until the end of the month. In Steamboat speak that means one thing; choose a warm Halloween costume. We've been lucky the last few years to enjoy balmy temps for the downtown stroll, looks like our luck has run out.  Trick or treaters, you've been warned.
Skiers, the wait is almost over. So hurry up and snag this year's ski trip deal with Condos in Steamboat.