Posted by
Kim Filler
Last night the oldest winter carnival in the west kicked off for the 100th successive year in Steamboat Springs. What began, as a welcome break to a long Colorado winter is now the town's most cherished event.
To mark the centenary look skyward after the opening ceremony as 100 Asian lanterns will soar above Howelson Hill. Each lantern will carry a handwritten message sharing fond memories, or future wishes of our townspeople.
This will be the calm before the storm. By Thursday an action packed weekend of events from the sublime to the ridiculous with ensue. Cross-country obstacle races and ski jumping will open the batting.  A Soda Pop Slalom, tubing party, dual slalom bike race and snowboarding jam session will follow.
Over the weekend Steamboat Springs Main Street will be transformed into a racetrack for Stetson clad cowboys pulling kids on sleds. The High School Marching band will toot through town on skis. Competitors will give it their best shot with an international muzzle loading biathlon and the Diamond Hitch Parade will bring things to a close.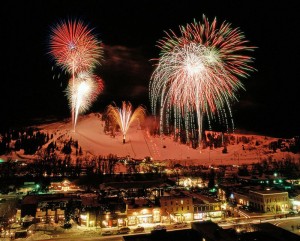 As night falls on Saturday, the biggest winter extravaganza will take place. Our youngest skiers will open with a torch light parade followed by the one of a kind Lighted Man. Kitted out with a sled of explosives and a fully illuminated suit, our town's most fearless man on skis will carve his way down Howelson Hill to the cheers of those below. Ski patrollers will jump through rings of fire before the sky is ablaze with fireworks.
Making even the non-participating locals and visitors feel part of the carnival, will be the spontaneous flash mob dancing planned for the first time this year. Two local Moms plus owner of Elevation Dance Studio, Renee Fleisher, have masterminded a dance routine to "Good Time" by Owl City that will play four times during the carnival. There's still time to master your own moves by checking the flash mob demo out.    Flash Mob Dance – Steamboat Winter Carnival
History will be made this weekend, together with new memories to soar high one day, like those written in the lanterns.
$10 for carnival badges available through SSWSC (Steamboat Springs Winter Sports Club). Insider tip for Condos in Steamboat friends – according to our local Olympic champ Todd Lodwick, take a piece of cardboard along for viewing on the snow – stops you from getting so cold!!