Monday, January 23rd, 2017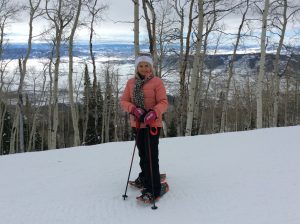 Who knew that something used as a method of survival 6,000 years ago would evolve into a recreational pastime? Snowshoeing's long and storied past has been eclipsed by technology making it a winter-sport favorite for many.
In December Condos in Steamboat guest Lesley Philip left her native Scotland, and came to Steamboat Springs to spend Christmas with the family. She didn't ski or snowboard and according to her, she "has never felt part of the winter scene." All that changed after a day spent tramping around the Steamboat Ski Area on snowshoes.
"It was absolutely wonderful and for the first time, I could join in with the rest of the family and share time on the mountain," she says. For the remainder of her trip, Lesley spent multiple days clipped into snowshoes crunching over snowy terrain all over Steamboat.
Steamboat Ski Area has created several snowshoe loops that follow well-marked cat tracks and gentle terrain to Four Points and Rendezvous lodges. For those who'd prefer not to navigate the routes alone, there are multiple guided options available. Free tours are offered daily at 1 p.m., leaving from the information center at the base of the mountain. An on-foot lift ticket is requirement. Make a day of it and book a gourmet lunch at Hazie's Restaurant, which is served prior to the tour. Make a night of it instead, and take the Moonlight Tour with dinner at Hazie's afterwards.
Explore the nooks and crannies in hillsides and forests all around Steamboat by snowshoeing on designated hiking trails. Popular local favorites include; the Quarry Trail on Emerald Mountain, favored for the unsurpassed views of Mount Werner and the entire Yampa Valley; Uranium Mine Trail which overlooks Fish Creek Falls; and Walton Peak Trail on Rabbit Ears Pass for incredible panoramas of the south valley. Learn about local wildlife on naturalist lead snowshoe tours offered weekly by Yampatika. (www.yampatika.org)
Spend a day at any of the Nordic centers, where trails for snowshoe use are clearly marked. Haymaker Nordic Center and Catamount Ranch and Club both allow dogs during weekdays. Both offer equipment rental and full-service dining. Steamboat Touring Center is the most centrally located of the three and also offers equipment rental and a cafe.
Know Before You Go
Dress in layers, as you would to go skiing. Avoid cotton, as there is no way for the moisture to escape, which can make you feel cold.
Wear snow boots, or hiking boots and use gators to keep the snow out.
Pack plenty of water to stay hydrated.
Take snacks to keep energy levels up, especially young children.
Take poles to maintain good balance on steeper terrain.
Stretch legs and hips prior to snowshoeing as it is a workout and you'll be thankful you warmed up first.
Pack a camera – the scenery will be beautiful, wherever your shoes take you.